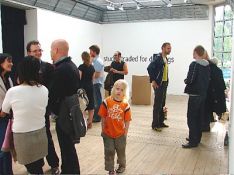 Things for my studio traded for drawings
For the project I got in touch with a variety of companies producing or selling things, that I needed for my future studio. I found the most complicated thing was to actually get in contact with the right persons, within these structures. Having established the contact, some were happy to swop with whatever I wanted out of sympathy for the project. Others were very engaged with, what the drawing I offered in return looked liked. Some refused trading, referring to the company profile, being in contrast to my project. Others were concerned with the different value, of our products.
At the exhibition the different things were shown as I received them, since they were in fact on their way to my studio.