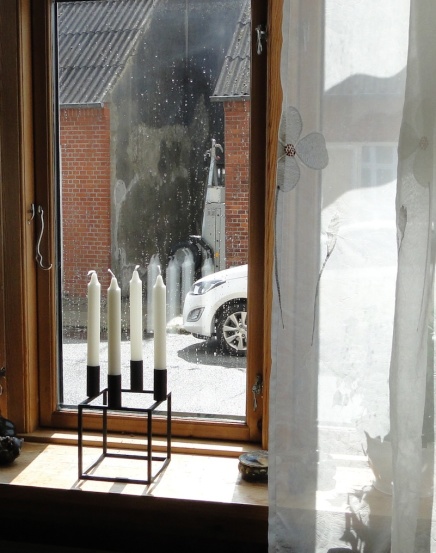 KUBUS
Kubus, as much a cultural marker as a candleholder
The famous Kubus candleholder designed by Danish designer, Mogens Lassen, is found in many homes in Denmark. Currently, there are many to be found in a particular street, Gasværkvej in Nykøbing Mors, Artist Line Sandvad Mengers has given a Kubus candleholder to each of thirty households as part of an art project. These candleholders have been placed, in collaboration with the homeowners, in their windows so they can be seen from outside during Kulturmødet.
The Kubus candleholder was conceived in 1962 and since then has achieved international iconic status within design. It is an object that projects certain values: inspired by functionalism it represents the generation that established the Danish welfare state that we know today. It is about a special way of thinking that includes intellectual values and a dream of the good life. This begs the question of how a piece of iron, measuring 14 x 14 cm, can be a symbol of something so elementary yet so elite at the same time? Is it the combination of mass production, material and price? Is it seeing it placed in "perfect" homes in life-style magazines? Is it a combination of the historical background of a period of development and Danish design as a proud stamp of quality, that so many wish to own one? Many will consider the Kubus as much a cultural marker as a candleholder, and will see it as signalling a consensus and mindset that influences part of our culture, as well as being been adopted by other countries.
Line Sandvad Mengers, in her Kubus project in this street, has staged the candleholder in order to illustrate its significance. What values does it create here? It is a game with icons, which can lead to a debate about cultural values. At the same time this project gives an opportunity for reflection and exchange of opinions between different people and cultures.
Helene Nyborg Bay