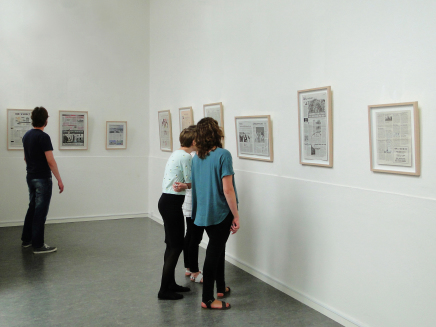 The Answer
Newspapers from nine different countries.
The selected countries: Greenland, Great Britain, Israel, Korea, South Africa, Spain, Ukraine and USA people have had different perceptions of the truth. In each newspaper page a letter is cut out, together they form the word (or the absence of): The Answer. The project began with an interest in the way, individuals, organizations and nations represent themselves and in the concept of truth in relation to self-understanding. The original collages were exhibited at Aarhus Center for Visual Art.
THANK YOU The exhibition is kindly supported by Aarhus Municipality, Aarhus Center for Visual Art and Godsbanen.
The Embassy of the Republic of Korea, Honorary Consul, Hans Erik Stef- fensen, Nuka Alice Lund, Katuaq, Grete Aagaard, Natalia Barberia San- tamaria, TABAKALERA, Kirstine Skov Hansen, Vibeke Skov, Banu Cen- netoglu, Kgomotso le Roux, VANSA - Visual Arts Network of South Africa, Chen Tamir, CCA, for helping me get the newspapers.
In the collection of the DANISH ARTS FOUNDATION