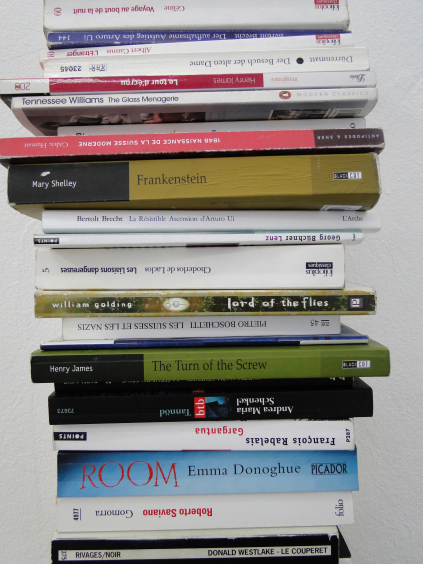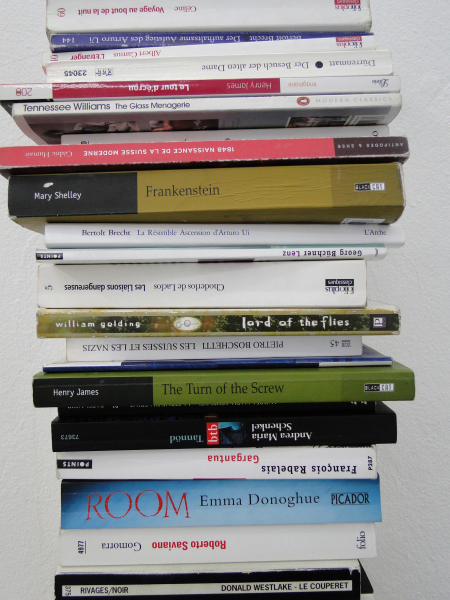 Favorite Books (Violence)
Books on violence from local peoples homes on display at the galleryspace during the exhibition. Variable dimensions. expected a lot of Shakespeare and Bibles, but people brought cartoons, crime novels and a surprisingly large number of books about weapons. Thank you to all the local participants and a special thank you to Christina Joensson
Group Exhibition with Heidi Hove and Naja Maria Lundstrøm initiated by Christina Joensson.
Espace D'arts Saint-Valentin, Lausanne, CH - October - November 2013
FAVORITE BOOK TRANSACTION
A 1 minute conceptual performance, a simple transaction.
A priest is invited to hand me a copy of his or her favourite book. This version is also about expectations.
With Louise Højlund, PerformanceRUM, Aarhus, 2017
With Hans Jörg Statlemann, Cabaret der Künstler, Manifesta 11, Zürich, 2016
Thanks to Lavdrim Dzemalji for assistance.
FARVOURITE BOOKS (bibel)
Modul: Botanique, Antique and borrowed books
c4 projects, Copengagen, 2014