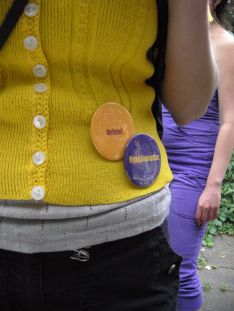 Did you hear the one about...?
Choose 3 buttons to wear during the event
I had the pleasure of talking to almost every visitor as they picked their personal 3 buttons. There were 48 to choose from, such as unemployed, German, vegetarian, depressed, liberal, frigid, cyclist, gay and ambitious. Some found it difficult to find 3 to match their personality. Others felt there were to many to choose from. Listening to the considerations people had about exposing themselves in this way, I found very fascinating. It was interesting to se witch buttons were the most popular; single, feminist and allergic were some.
Deadpan Exchange was organized by Jonn Herschend and Hedi Hove.