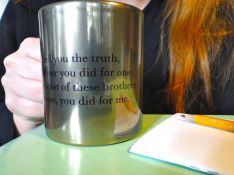 The Least of my brothers
For the project, people had the opportunity to meet and talk to my younger brother, Mads, who was present for one hour to exchange opinions with visitors.
The least of my brothers is a project about identity in relation to the family as a cultural group. Individual members of a group may select aspects of cultural identity, while rejecting or disowning other related ideas.
Mads and I were both born in Denmark in the 1970 ́s. We share the same biological parents and grew up in the same home. Professionally, personally and politically we have chosen different paths.
Curated by Ryan Thayer and Sarrita Hunn