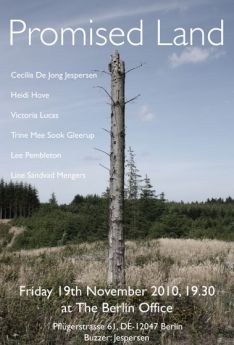 Promised Land
Identity, belonging, and the desire to escape to a new world.

Berlin provides a utopian dream, a place in which to enrich existence, a refuge for the nomad artist and non-conformist ideals. The Berlin Office is an empty space born within this seemingly utopian paradise.

The Berlin Office is a non-place. Exclusively developed for artists, you check in and you check out; your designated stay in the space controlled by a virtual calendar. This nothing space in which the artist resides provides a think tank; a neutral ground in which to impregnate with thoughts, ideas, and feelings.
As The Berlin Office prepares to exist as an ordinary apartment once again, this final show presents artworks created by current members of the organisation. Based in Denmark, the USA and the UK, the artists abandon their virtual online management system and travel to the physical space of The Berlin Office, to leave one more artistic impression in the space.
What dreams do we impregnate in to these walls that we have so often imagined? What do we escape, what do we bring with us, and what do we leave behind?
Promised Land was curated by victoria Lucas and Line Sandvad Mengers, to mark the end of the The Berlin Office and its artist in residence programme.